I am constantly reading and gathering ideas from some of the best in the personal development and personal finance fields.
This year I set out to read twelve books. With the help of audiobooks which played during my long commute to work, I surpassed that goal.
For avid readers on the go, I would highly recommend you, Try Audible and Get Two Free Audiobooks
.
Those who prefer ebooks, consider the following offer: Join Amazon Kindle Unlimited 30-Day Free Trial
.
Below I share a review of the books I have read that relate to the categories within this blog: personal development, career advancement, and finances.
I read these books in hopes of getting closer to some of my life goals and believe you will also find them beneficial. Below you'll find links to purchase books and awesome deals being offered.  These are affiliate links. You can read my full disclosure here.
Feel free to focus on the titles within the area you are most interested in the moment or pick one from each category.
For my super busy girls who don't have time to read my opinions on each of the books, just scroll to the bottom to see my top five.
Simply click on the book titles to order the books from Amazon
.  That being said, this post does contain affiliate links which means I get a tiny commission when you purchase at NO additional cost to you.
ReadingList
Personal Development Books
I have listened to this audio over 20 times…NO EXAGGERATION! It basically helps you outline what it is you want to achieve and helps you understand that you have to become the type of person that is worthy of having this by consistently performing new habits or getting rid of some bad ones that are holding you back. I highly recommend listening in December or January to get you pumped up about those resolutions and revisiting it often. The author reads with such enthusiasm that you can't help put to get excited.
I cannot get enough of this woman. She is hilarious! I listened to this book at least ten times. I'm not kidding, it was that good. It's basically this total "you can do it" pump up speech. The perfect book to get you amped to go after all those things you desire. She is a believer in the Law of Attraction and man did she manifest some awesome things once she got over her limiting beliefs. She helps you do the same in a very fun way. I loved it so much that I jumped to read her follow up, You are a Badass at Making Money. Get both titles for a discount here.
I love the concepts in this book Habit 1: Be Proactive. Habit 2: Begin with the End in Mind. Habit 3: Put First Things First. Habit 4: Think Win/Win. Habit 5: Seek First to Understand, Then to Be Understood. Habit 6: Synergize. Habit 7: Sharpen the Saw. It is truly a life blueprint that works in your personal and professional life. The key is in applying the concepts every day so I would recommend you get the workbook.
The Grandmother of all things self-help, Louise Hay, tells you about her upbringing and how she transformed her own life through affirmations and daily wellness practices. If that woman can heal herself from cancer without meds, I am sure we can all learn a thing or two from her. She helps you heal your life by getting to the root of the problem, lack of self-love.  I love one of the mantras she teaches, "I love myself, therefore…" it is a reminder to treat yourself well.
I felt like the title was a bit dramatic and didn't think I needed the book since I had googled and watched vi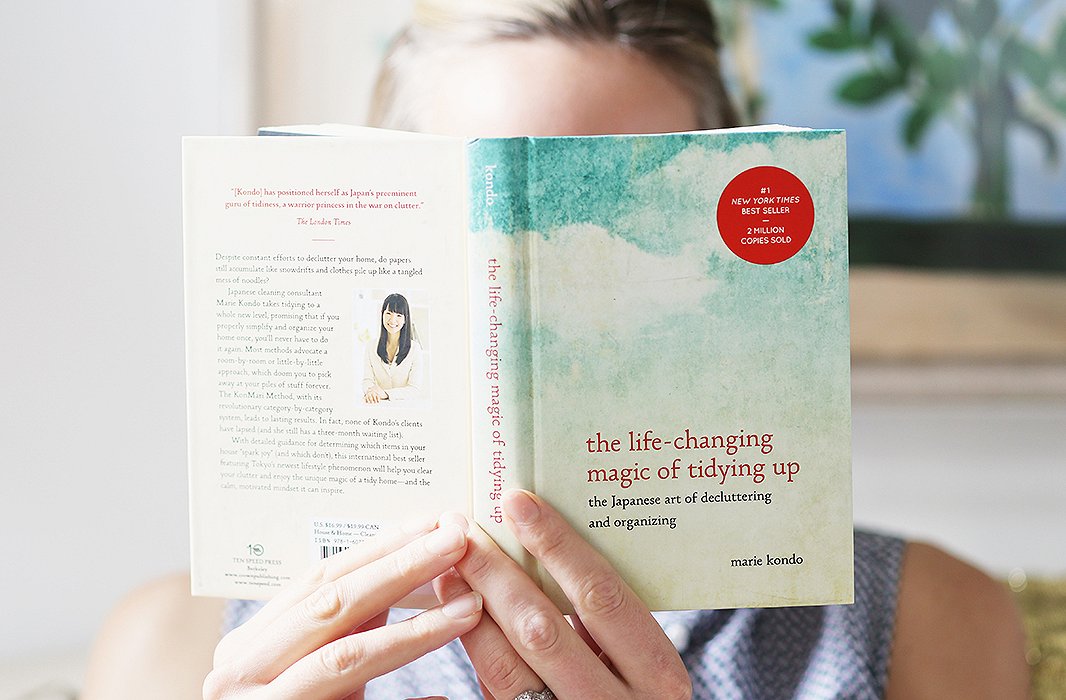 deos on YouTube of her methods. But boy was I wrong about everything! I mean I LOVE my closet now. It really is an amazing feeling to walk in and be able to locate exactly what I want in a second. I am now surrounded by the things that I love, bring me joy, or are truly useful.
This book helps women gain control of key areas within their lives: weight, health, home, and spirit by incorporating simple habits into their daily lives. I actually really enjoyed the book because it just confirmed that I should continue to do many of the tasks on my AM and PM routines and add a few more.  It even led me to start hosting meetings for women that wanted a process by which to tackle their goals and friends to join them on the journey.
Business & Career Books
Author Tim Ferriss shows you how to escape the 9-5 work day and work only four hours a week! There has been so much hype around this book for years. So of course I googled and watched YouTube videos summarizing the concepts before reading it, but WOW this book is worth owning.  Ferriss gives you scripts, shows you how to automate everything, details how to work with a virtual assistant, and helps you make the most of the time you are not working. My favorite takeaway was how he focuses on learning both mentally and physically with his free time. For example, he would travel to a country and would learn the language along with a traditional dance or sport. I loved it and will read it again and again as it helps you build a life you love and is full of concrete action steps.
Boy did Cal Newport go deep with this one. The main takeaway is that we live in a distracted society, which causes us to be all scatterbrained and unable to focus. Newport gives examples of how strict focus has the power to propel us and our work to greater heights.
Good to Great: Why Some Companies Make the Leap and Others Don't
This book has valuable information for those running a business or in charge of assembling a team, as there is this theme of "the RIGHT people are your biggest asset."  I was able to extrapolate a few ideas and apply them in my personal life as. My favorite concepts were the need to be a "level five leader" who thinks more of the company's success rather than their own opportunities for gain or recognition.  Above all, I was reminded of the need to become a disciplined person, who thinks disciplined thoughts and takes disciplined action.
Financial Focus Books
Both of these titles are by the famous, Suze Orman.  I love that woman! She's just amazing. I love how she speaks so rough when coaching people, she's just a straight shooter- my kind of girl.
The Money Class took a holistic approach to money addressing the many stages of life from young teens getting their first jobs and working their way up, to those close to retirement. It was cool, but I LOVED Women & Money: Owning the Power to Control Your Destiny. I won't lie at first I wanted to stop listening because the first few chapters were geared towards women who have never managed their own money. I mean Suze walked these women through how to get a checking account! Yup, she's that thorough. Suze then went through every single step you need to take to secure your financial future. I mean she walks you through deciding on retirement accounts and allocations to legal documents you need in case you are incapacitated. Everything is discussed in detail so that you can take action. I highly recommend this book be read by every woman. Even if it's the only financial book you ever read, I feel like you will be set for life.
Oh, how money plays such a huge role in our lives. I mean just look at this blog. Most of my post are about money. The topic can consume our lives and worries if we do not get a handle on how to make it work for us. In this book, Jen Sincero coaches you through identifying your limiting beliefs around money and convert them to affirmations that will heal the relationship you have with it and help you manifest more money in your life. You know I followed every step right. Totally loved it and began to dissolve many of the ideas that were ingrained in me during my childhood. Money is easily flowing in my direction and I no longer worry. It has been a blessing.
I got this book for free when I purchased my Living Well Planner, read a review of the planner here, but you can get a copy here. The book guides you through a No Spend Month. I wrote about my experience after completing the no spend month here. I wouldn't say you need the book to conduct your own no spend month, but being that I was going at this alone, it was nice to have a guide and suggestions of what to focus on each week. This helped keep me at home and away from the costly streets. Ruth is an amazing homemaker or was since she's now the owner of a million dollar business, and her guide helps you get every aspect of your home in order. Everything from deep cleaning, to freezer meals, and getting creative with a sewing machine. The book made me feel like I was committing to someone else, not just myself and it was the only time I successfully completed a no spend month. I'm going to reread it when I do my second no spend month.
This is a classic and it contains great principles and action steps. Unfortunately, it felt stuffy and like a bit of a chore to read so I never finished it. Which tends to happen with books written so long ago, but I do recommend you read this one. I was able to craft the best affirmation using their language which really resonated with the person I want to become and the work I am willing to do to get the results I desire. I plan on going back and seeing what other extremely valuable concepts it holds.
I learned of the author, Gail Van-Oxlade via a podcast interview. Her book, Debt-Free Forever, was a game changer! She's funny and a tell it like it is kind of girl. Her system goes deep- forcing you to calculate your interest paid over time on all of your debts. If you can make it through this step without passing out, you'll be able to complete the others. Her website is full of resources and I believe when you follow her system you will surely understand why becoming debt free should be your priority.
Dave Ramsey's  Total Money Makeover is a collection of testimonials of those that have followed his teachings and how you too can implement the "7 baby steps" to achieving a harmonious relationship with money. While I resisted Dave's teachings for a desire to "be smart" and pay off debts in order from highest interest rate rather than the smallest amount, I came around to following his ways. Because as he reminds us, we are emotional creatures, thus achieving small wins (by completely paying off a debt) matters in keeping us motivated. While I was originally annoyed by the number of testimonials, it was nice to see that it worked for people of all walks of life and would likely work for me as well. And since sticking to his practices, I have seen major progress in being able to stay focused on debt repayment.
Top 5 Favorite Reads
The following books are in no particular order. Scroll up to read my review of each and why I loved it so much to decide which one you should start with or just get all five.  With Audibles, you can start listening today!
I hope these books are as valuable to you as they have been to me during my journey. Please email me your thoughts at Jen@livingoutgoals.com.